Who Are We and What Do We Do?
BGN CORE TEAM
Spencer Bunce (Neighbourhood Watch)
David Pearce (CEO, Age UK Dacorum)
Debbie Goldthorpe
Penny Bennets
Ai-Ling Chang (Age UK Dacorum)
Beverley Kirk
William Allen
Alicia Butler
Boxmoor Good Neighbours
We continue to support the elderly in Boxmoor during the Coronavirus Pandemic. 
HELP WITH TRAVEL to medical appointments, such as surgery, dental or hospital
SHOPPING – We provide a weekly service delivered to your door
COLLECTING PRESCRIPTION - We pick up and deliver prescriptions 
SIMPLE GARDENING -Help with simple tasks like mowing the grass or cutting back bushes
COMPANIONSHIP – with a home visit (when permitted) or phone call
BEFRIENDING/COMFORTING - We offer a call from a volunteer for a chat, to provide a listening ear and friendly voice over the phone or in-person when permitted
SPECIAL EVENTS - We organise fish and chip suppers, cream teas and more...
Our scheme is run entirely by volunteers for the benefit of elderly residents living in Boxmoor. We do not charge but welcome donations.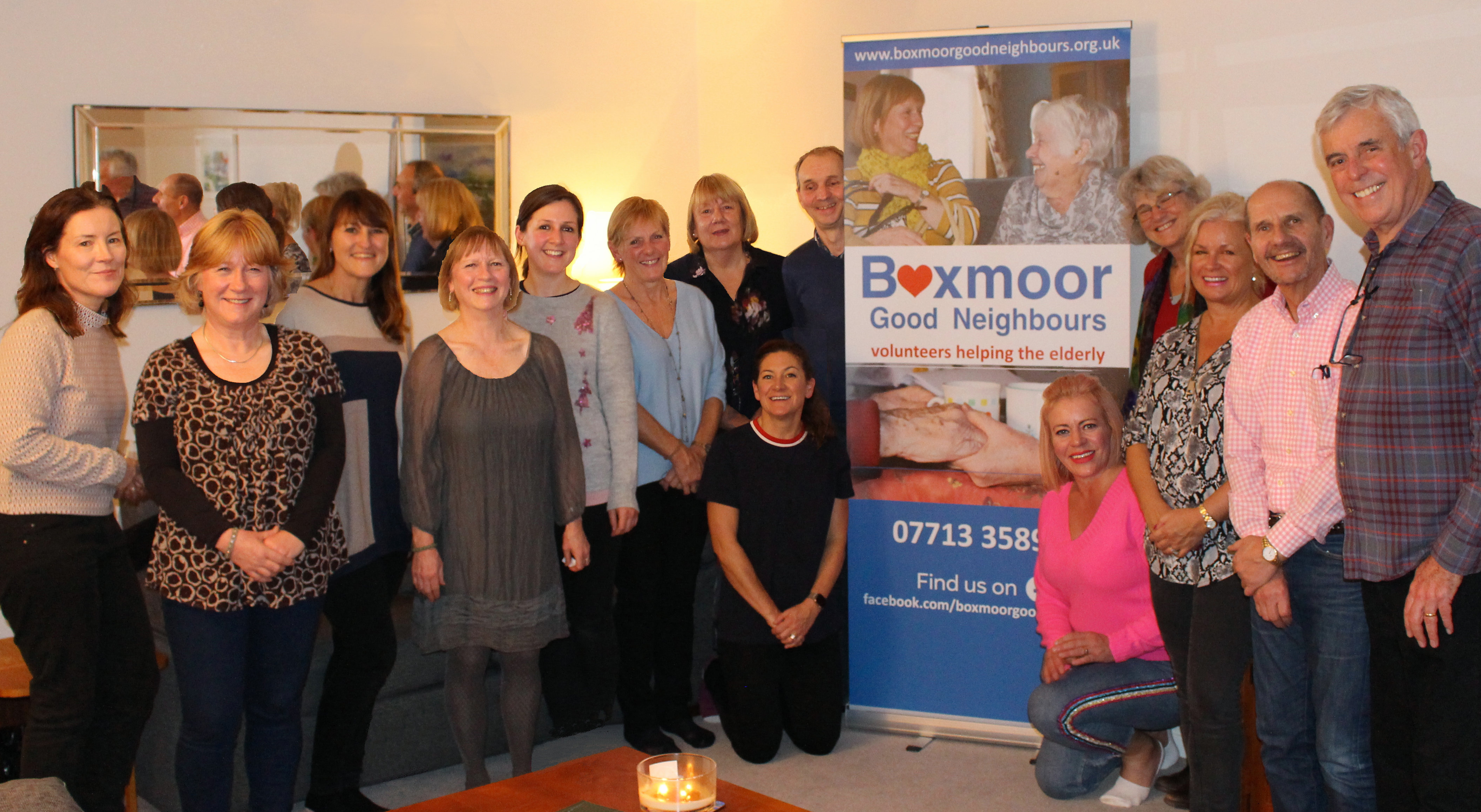 Boxmoor Good Neighbours Area Map
Streets Within Boxmoor Neighbourhood Watch Area
(78 Streets / 2893 homes)
Adrian Close, Alston Road, Anchor Lane, Ashtree Way, Barberry Road, Bargrove Avenue A, Bargrove Avenue B, Beaumayes Close, Beechfield Road, Benchleys Road, Bishops Mead, Bulbourne Close, Cangels Close, Cardy Road, Castle Mead, Clementine Way, Counters Close, Cowper Road A, Cowper Road B, Crouchfield, Fishery Passage, Fishery Road, Fulmer Crescent, Glendale, Glenview Gardens, Glenview Road, Gravel Hill Terrace, Gravel Lane, Green End Gardens, Green End Road, Grosvenor Terrace, Grove Road, Halwick Close, Hanger Close, Hanover Green, Haybourn Mead, Heath Close, Heath Lane, Hilmay Drive, Horsecroft Road, Kingsland Road, Latchford Place, Linden Glade, Lockers Park Lane, Lovel Close, Lower Sales, Mayo Gardens, Melstead Road, Moorland Road, Nettlecroft, Northridge Way, Old Fishery Lane, Parkhill Road, Pinewood Gardens, Princes Park, Puller Road, Reson Way, River Park, Robinsfield, Rosehill Court, Sebright Road, Sheridan Close, St Johns Close, St Johns Road, Sunnyhill Road, The Cornfields, The Farthings, The Poplars, Thistlecroft, Thorne Close, Upper Sales, Veysey Close, Warners End Road, Wharf Road, Woodland Avenue, Woodland Close, Woodland Place, Wrensfield